Skip to product information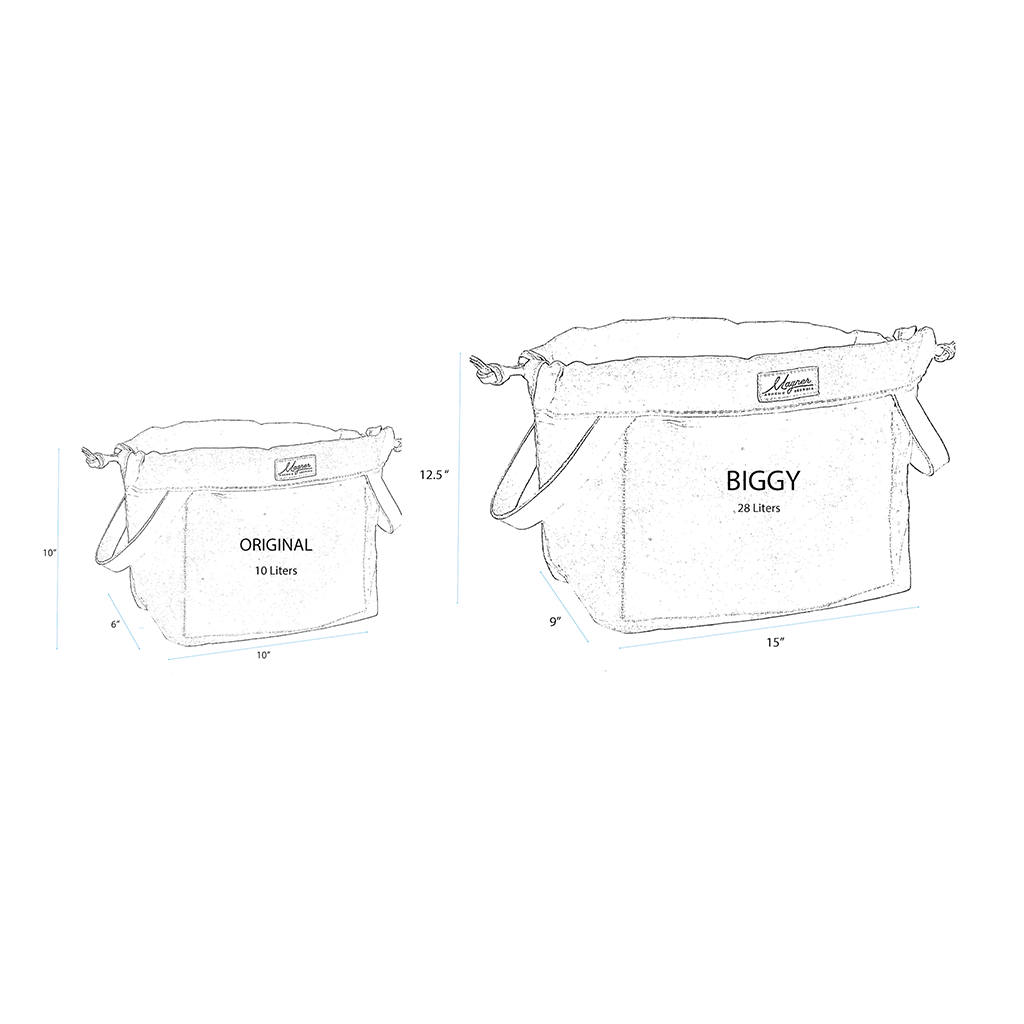 Magner Co. {project bags}
Regular price
$152.00 USD
Sale price
$152.00 USD
Regular price
ORIGINAL: Rover Yellow - TEXWAX
ORIGNAL: Terracotta - DRYWAX
ITTY BITTY: Brush Brown - TEXWAX
ITTY BITTY: Natural - DRYWAX
ITTY BITTY: Rover Yellow - TEXWAX
ITTY BITTY: Light Pink - DRYWAX
ITTY BITTY: Pine - DRYWAX
I am so excited to now be carrying Magner Co. Project Bags! Handmade by Casey, and his loyal pup Smokey in Athens Georgia, USA, these bags are thoughtfully designed with the knitter, crocheter, and maker in mind. Choose from Knitty Gritty BIGGY, Knitty Gritty ORIGINAL, or Knitty Gritty BITTY.  Oh and did I mention? These project bags have pockets, stand up on their own, and come in a beautiful color range of waxed canvas finished with stunning golden brown English bridle leather handles and drawstrings!  These bags are made to last; like a fine wine, these bags age well and get better over time!
Follow Casey on Instagram, HERE.
The Knitty Gritty Bags
BIGGY: 

Width 15" x Height 12.5" x Depth 9"

Front side pattern pocket - 10" wide x 6.5" tall with 3 solid brass grommets designed to hold folded patterns and allow for tangle free knitting on the go.

Rear side zipper pocket sized at 5.5"wide x 5.5" tall with a slot behind for quick access to phone/keys/etc. If you get the optional crossbody strap (link below) this makes a great spot for storage.

Plus, 3 slotted pockets sized at 2" wide x 5.5" tall for needles, sunglasses, etc.

ORIGINAL: Width 10" x Height 10" x Depth 6"

See notes under BIGGY.  The pockets are the same.

BITTY: 

Height 7.5" x 

Bottom Diameter 5.5"

Features: Cinch top drawcord design allows for a nice snug closure and will help keep contents in place and prevent things from falling out if it tips over while traveling. Veg Tanned Leather handle is designed to stay down and out of the way while in use, but can be rotated up for carrying. This also allows the bag to hang from your arm and knit on the go.
The Fabrics
TEXWAX: 10.10 oz army duck canvas with TEXWax™ finish. Originally used by sailors to help protect against the elements, this is a strong and durable fabric that is beautiful and tough. Waxed canvas has a classic look, feel, and vintage charm that no other fabric can replicate. The wax also adds protection against water, i.e. spills!  *Please note - TEXWAX™ canvas is known for "craze marks" that occur with use. Many people love the vintage and classic looks, but it you want to return your waxed canvas to a smooth uniform surface you can apply heat with a hair dryer or toss the bag in the dryer for 2 minutes or so.
DRYWAX: 10.10 army duck canvas with DRYWAX™ finish - Hight thread count water repellant canvas. Drier and smoother hand with clean, bright aesthetic. Dyed and Finished in USA since 1938. Does not show "craze" marks like the TexWax™. 
LEATHER STRAPS/HANDLES & DRAWSTRINGS: Vegetable Tanned English Bridle Leather.  *Due to the tanning process this leather starts off pretty stiff (like a real leather belt). To speed up the break in process of this beautiful leather apply a small amount of lotion to the backside and then just bend, twist, and roll it in your hands - It will wear in and soften immediately!
Please note, some colors may differ from screens to final product.