Skip to product information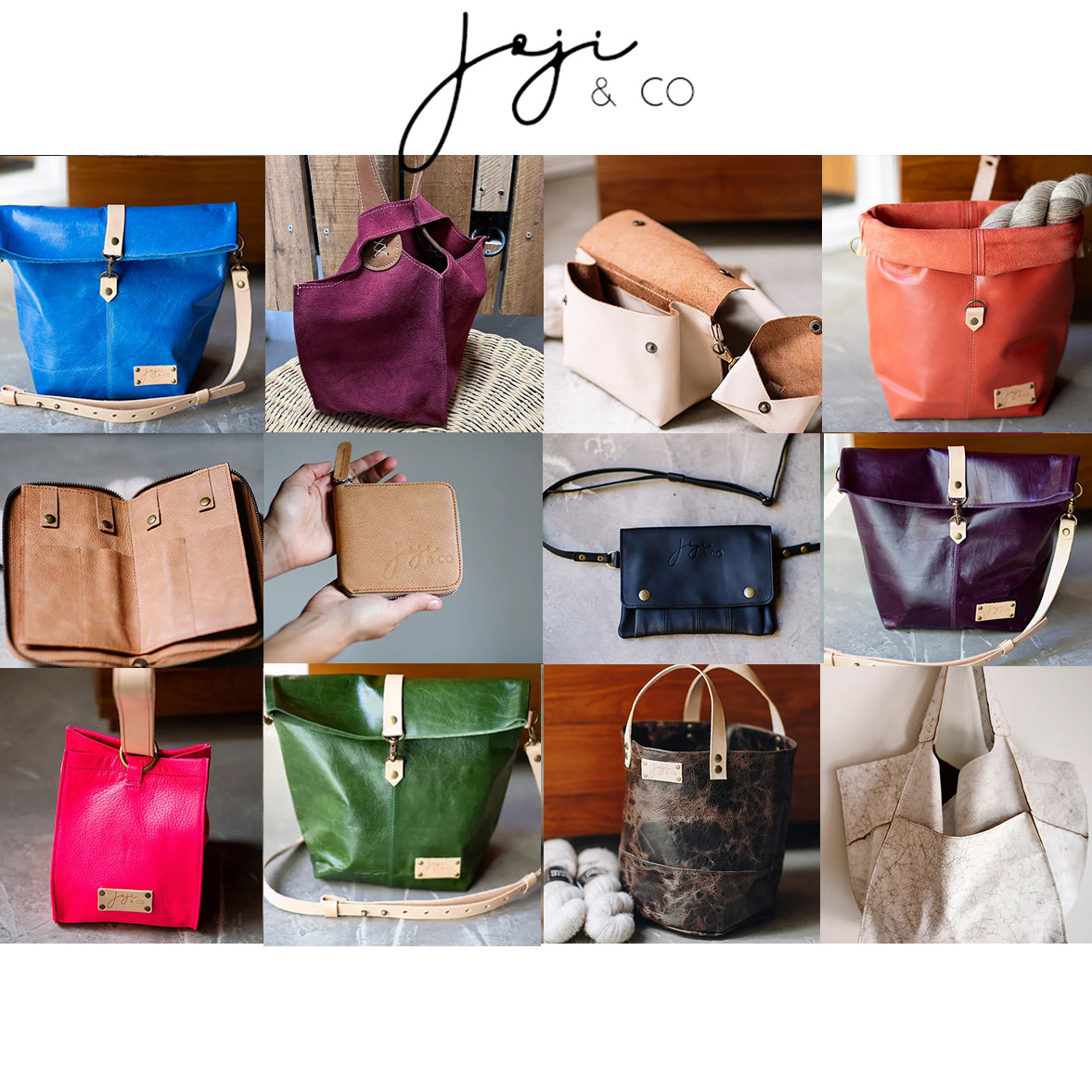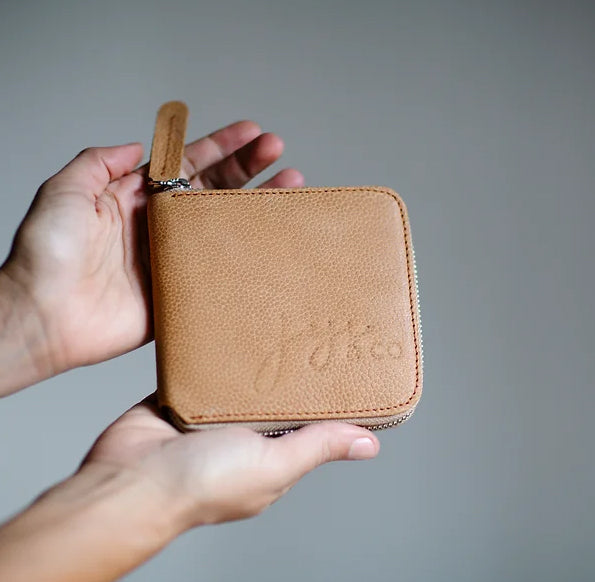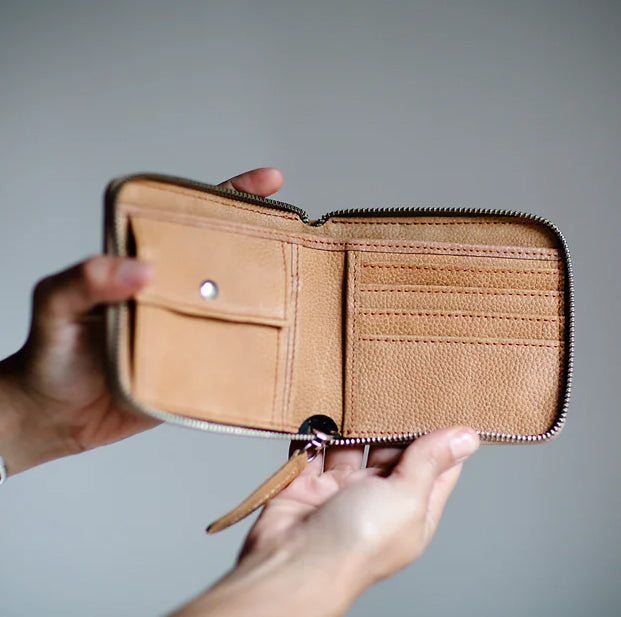 joji & Co. bags/accessories
Regular price
$116.00 USD
Sale price
$116.00 USD
Regular price
LEO CROSSBODY BAG - BLACK
PAMPA BUCKET - SPLATTER BROWN
SANTA CRUZ TOTE - EGGSHELL
MINI SANTA CRUZ - CRANBERRY
JOJI'S FAVORITE WALLET - CAMEL
FIXED NEEDLE CASE - CAMEL
ENVELOPE - SKY BLUE (strap not included)
ENVELOPE - EGGPLANT (strap not included)
ENVELOPE - TERRACOTTA (strap not included)
,


You Can Never Have Too Many Bags....
UNBOXING ON IG: September 16th 2023, 10am PST, watch HERE
SHOP UPDATE:
The two things I love most about being a knitwear designer and online retailer, is inspiring makers, and building community.  There are many makers in the industry I admire, and when I get to work with them, it's like a dream come true… my dreams just came true!
I am so excited to announce, I am now officially an online retailer for Joji & Co.  The third Canadian supplier and first on the West Coast!
Founded by Joji Locatelli, Joji & Co is a leather bag and accessory company based in Buenos Aires, Argentina, run by a small family team.  All offerings are sourced and hand-made by local artisans from marginalized communities in Argentina.  The quality is superb, and each special piece is designed with making in mind; the bags work as everyday "purses" and of course, to tote around yarn and projects too!
There are minimal quantities of each, and I cannot guarantee a certain style or color will be back in stock.  If you love it, get it!
PRODUCT DETAILS
ENVELOPE BAG - Leather


Important! Please note that this bag does not come with the Crossbody Strap, you need to get it as a separate item.

The Envelope Bag is a simple, really minimalistic project bag, hand-made using our gorgeous Argentine leather. It doesn't have a top closure. Instead, it folds down and it is kept closed with a leather strap and a clasp. It can hold comfortably any 3-4 skein project. It comes with 2 D-rings on the side seams, where you can attach a crossbody strap.

If you own any of our other crossbody bags (AMBA, XBody BA Bag, The Bean Bag), you can use the strap included with those styles
Measurements:
33 cm /13 1/4" Tall unfolded
26 cm / 10 1/4" Tall folded
19 cm / 7 1/2" Wide at base
32 cm / 12 3/4" Wide at top
13 cm / 5 1/4" Deep base

BOX BAG
Designed with sock knitters in mind, and we believe it's every sock knitter's dream bag. This bag is big enough to hold any pair of socks comfortably. The closure is simple and modern. You can carry the bag over your wrist, or simply fold the handle down and use the bag as a gorgeous yarn bowl. This bag is square shape and has no lining or interior/exterior pockets.

Hand-made with the delicious rustic hammered leather we use for our Pampa Buckets, the BOX bags are super hard-wearing.

Materials: 100% genuine Argentine leather
Handle and tag: Vachetta (vegetable tanned) leather
Aged brass ring closure.
Approx. Measurements: 
Base 5 1/2" x 5 1/2" (14 x 14 cm)
Tall: 7 1/4" 18 cm

PAMPA BUCKET
A stunning and classic brown smooth leather, with a tonal finish.  Elegant and classic, this piece will be last for years and years... We think we've found the perfect pairing between design and material!

The PAMPA Bucket is the perfect mix of utilitarian/décor. The leather used is sturdy enough to make your Pampa stand up straight even when empty. All our leather and other materials are sourced in Buenos Aires, and all our buckets are hand-sewn with extreme love and care. They are unlined, with a single layer of leather. The bottom of the bucket has a seam reinforced with leather piping that helps it sit nicely on the ground.
Approx. Measurements:
Height 23cm / 9 1/4"; Base Diameter 20cm / 8"
Exterior: Argentine leather.
Handle and tag: Vachetta leather.
It is

not

lined and doesn't have any pockets.



MINI SANTA CRUZ
This bag is the smaller version of our beloved SANTA CRUZ.  Instead of using 2 handles, we kept all the details we love but only 1 handle and a leather loop to keep the bag closed when you are carrying it over your wrist. This is the perfect bag for your smaller projects like shawls, socks, cowls and beanies.

It has a square shape, with exposed seams, and it is perfect to hold a 2-skein project (or 3 skeins if you like to fill your bags to the brim). The body was made using smooth leather, and the handle is made using double faced vegetable-tanned leather with added cross-stitching details.
Measurements:
Base width: 16cm (6 1/4")
Base depth: 15 cm (6")
Bag height: 18 cm (7 1/4")

LEO CROSSBODY BAG


Named in honor of the Argentinian football team captain Leo Messi ❤️This small crossbody bag is the perfect accessory for your notions of travels: the main compartment has the size of a passport, where you can also keep a small wallet. The front pocket is big enough for your phone. It comes with a removable strap, so you can also use it as a document wallet. It also features belt loops on the back, so you can wear it as a belt bag if you prefer.
Measurements: 15 cm (6") x 20 cm (8")
Adjustable strap length.

SANTA CRUZ TOTE - Eggshell
After some experimentation, this is our first version of the SANTA CRUZ TOTE!
As you may guess, this is like our beloved Santa Cruz Bag but bigger and better This might be the biggest or most comfortable tote we've made so far. We kept the irregularly cut shape of the Santa Cruz and added panels and pockets. Of course, we made it larger so that it fits everything you may need for a day out or at work.

 In this tote I can comfortably fit my 17" laptop and its cables, 2 works in progress (including a very large sweater) and all my knitting notions and tools.

As for pockets, there is an inside (flat) pocket where you can carry your phone, wallet and keys for safety. This is a smaller pocket. On the outside we added a larger pocket where I like to keep my beanie or water bottle or a smaller project.

The bag can be secured at the top with a strong magnetic closure that keeps it from fully opening, but makes it easy for you to reach for your stuff even when closed. We kept the traditional cross-stitched handles we use for all our Santa Cruz products and top-stitched seams. 
Measurements:
36 x 36 x 18 cm at base, widening at the top for a larger aperture.
Handle drop: 26 cm

 

JOJI'S FAVORITE WALLET
Being a company that specializes in leather accessories, our customers have asked us many times to create wallets. Yes, we make Needle Wallets and cases, but this is the first time we have made a traditional wallet, you know, for money, cards and coins... Because, well, we do have to pay for our hobby too! ❤️

Our wallets are a small size, but you'll find that there's enough room for everything you need to carry. This design was requested by Joji, who loves to wear small handbags and struggles with wallets that are too large to carry. They have 1 big compartment for bills (notes), 4 card slots, 1 coin compartment with a flap closure and 2 horizontal pockets behind the cards and coins. The wallet is closed by a zipper around it in a matching color.
Measurements (closed):
12 cm (4 3/4") wide
11 cm (4 1/2") tall
2 cm (3/4") thick.
CROSSBODY STRAP
2 cm / 3/4" wide
105 cm / 42" long at shortest position
122 / 47 1/2" long at longest position
Material: Argentine Vachetta leather
All Joji & Co. products are final sales.  Please contact me for any problems.